March 17th, 2020
As you probably already know, taking into consideration the current context, we will move the spring editions of Angajatori de TOP – Bucharest, Timisoara and Constanta to a safe and virus free online environment.
Right now, a big opportunity for attracting talents and boosting employer branding efforts is opening!
Just imagine, each online career fairs like Angajatori de TOP provide the unique chance to connect with a wide range of candidates, at the same time and no matter their location. Meaning, you are just a few clicks away from gaining access to a powerful employer branding solution that can upscale your recruitment results.
Our commitment this spring is to attract +50.000 attendees in Timisoara, +120.000 attendees in Bucharest and +50.000 attendees in Constanta.
It's a perfect moment to look at all the special features our career fair provides to make sure you can take the online experience to its fullest.
Keep on reading and brace yourself for the biggest online talent sourcing experience of the year!
Accessibility
The heart of our online career fair beats the one on hipo.ro – no1 career page in Romania. During the fair, all you need is a normal internet connection and a thoughtfully prepared employer profile. Moreover, you will be able to access our fair from any mobile device or a computer, no matter your location.
Meaning, you will be able to upscale your recruitment efficiency from wherever you are, whenever you have time.
Higher visitors' attendance
Virtual career fairs due to its accessibility have much higher visitors' attendance. They are especially relevant for those categories of candidates who can't attend the physical editions: students studying abroad, candidates who want to relocate, or passive candidates who want to discreetly explore other opportunities.
User & Mobile Friendly Interface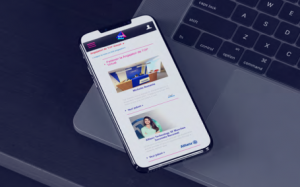 In a fast-moving environment, it's crucial for candidates to find the right job, company or domain listing in a fast and easy way. Our Virtual Fair platform fully supports this feature.
Each participating company will be provided with a Teaser Box to showcase its own identity, by adding a cover photo, logo and short description. All the teaser boxes will be listed on the main page of the fair with a very user-friendly design.
Fully Customizable Company Profile
Think of your employer profile on hipo.ro as a fully functional virtual booth. As an employer, you have full control over its look and feel. You can add text, photos, VR videos with tours around your office and as many pictures in the image gallery as you wish.
The online interaction area
In order to maximize the feel of personal interaction, we can (if the case) add a dedicated chat feature. In this way, employers' representatives can talk with candidates about company culture, CSR activities, benefits, jobs or learning opportunities. And when the words are not enough, let's not forget about the option to activate VR tours around the office in your company profile.
Webinars
In order to provide the best value for the visitors and enable direct interaction with employers, we will have over 30 online Webinars during the fairs. Wherever you want to get involved in broadcasting a dedicated conference or a workshop you can now do it in the form of a webinar. Make sure your message reaches the right audience by preselecting candidates you want to interact with more. A great part is that your talent might be located anywhere in Romania and still, you will be able to connect through audio, video or an instant messaging tool.
Cost-effective marketing support
For each edition, we stretch our marketing muscles to the limit in order to promote ADT. The fact that it grew the biggest career fair in Romania means that we know what we are doing. Make your company benefit from a well-designed marketing campaign and watch your employer branding grow.
In times like this, it's more important than ever, to prove your company has a strong employer brand that. The best we can do now is to stay focused on the target and keep our employer branding priorities intact using safe and innovative solutions.
Contact us at angajatori@catalyst.ro and join the biggest online experience in talent attraction!