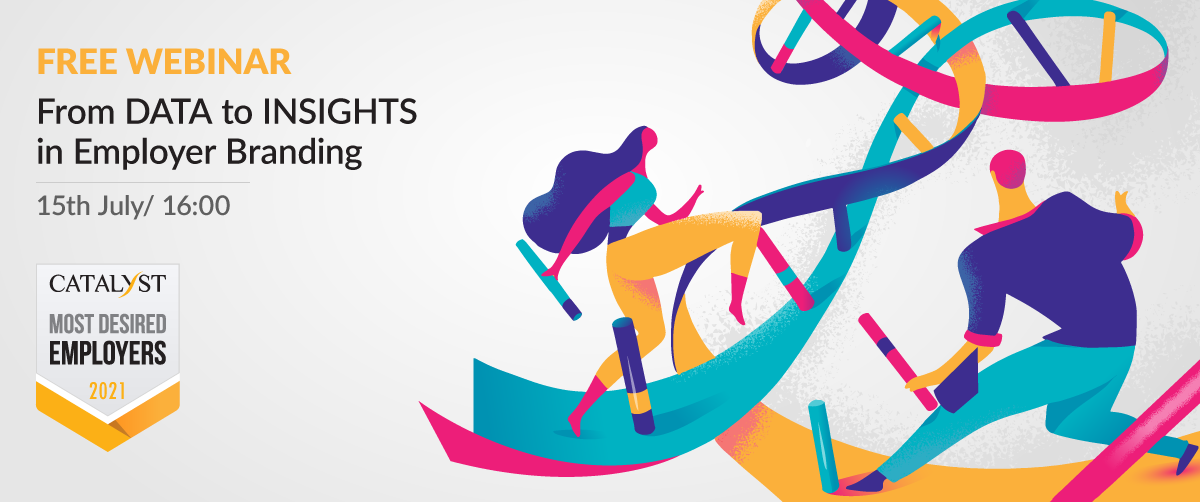 From DATA to INSIGHTS in Employer Branding
LIVE WEBINAR: 15th of July at 16:00.
How to stop the guesswork in employer branding and align your strategy with the latest market insights, based on the valuable data from the Most Desired Employers Study?
Join us at a live webinar with Dragos Gheban and discover how using the right data can boost your future talent acquisition and retention programs!
In this webinar, we will discuss insights that you can gain from analyzing the behaviour and perception of more than 14,347 potential candidates. It is a great opportunity to learn how candidates perceive employers in Romania and discover the latest trends in the world of employer branding.
Participation in the webinar is free, keep in mind to register, especially if you want to receive a recording from the live session in case you won't be able to join.
What you will learn:
What is the current situation on the Romanian workforce market?
The 2021 results of the Most Desired Employers survey and what insights it gives you access to.
What trends we can expect to impact the way how we attract, recruit, and retain our talent?
What are the KPIs you should measure for your employer branding strategy? Why are they important?
How to measure the status of your Employer Brand?
How to prioritize touchpoints based on research for your employer branding campaign?
How to prioritize the employer brand pillars in the case of an EVP localization?
How to adjust your content policy based on the desired journey of the candidate
Examples from guest companies on how insights from the Most Desired Employers survey can be used in defining the employer branding strategy (Continental, EY)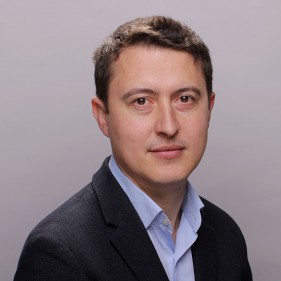 Dragos Gheban – Managing Partner at Catalyst Solutions
Co-founder of Catalyst Solutions, Dragos has over 12 years of experience in the Human Resources field, Employer Branding and Recruitment Marketing. During his career, he has worked with local and multinational companies from various industries: telecommunications and technology, FMCG, consulting, banking, engineering, retail and BPO. He has a deep understanding of business dynamics and challenges and has the capacity to design tailored solutions in order to meet the company's employer branding and recruitment needs.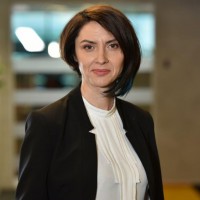 Irina Minzala – EY Romania
Irina Minzala is a Human Resources professional with extensive experience gained while working for top Romanian companies from various industries: management consulting, IT and outsourcing solutions, telecommunication, audit and business consulting. She is the HR Director of Romania & Moldova at EY, where, among other responsibilities, she coordinates the strategy for talent attraction, retention and development.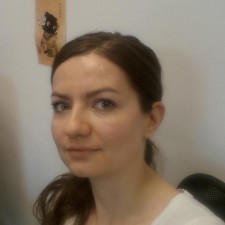 Monica Georgescu –EY Romania
Monica Georgescu is a PR professional with experience in corporate communication. Her expertise covers internal communication, corporate culture, employer branding, cultural transformation programs and the promotion of digital initiatives. She currently works as Employer Branding and Internal Communication Coordinator at EY.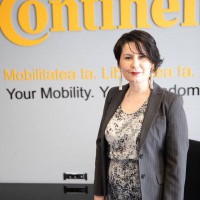 Maria Marcovici – Continental Romania
Maria Marcovici has been working in the field of employer branding since 2007. In the beginning, she was responsible for simple location HR Marketing activities, until she took over the coordination of these activities in all the Romanian locations in 2009. In 2015 she participated in defining the global strategy of Employer Branding within Continental, and in 2019 to its upgrade.
Over the years, Maria was involved in various projects, such as recruitment events, employer branding events aiming to position the company as a top employer in the field of technology, online and offline advertising campaigns, social media campaigns and engagement projects meant to involve colleagues from the technical departments in promoting the image of Continental as an employer.