December 19th, 2022
Catalyst Solutions, the main provider for employer branding solutions, has brought the DevCommunity in the IT scenario reuniting over 40.000 IT professionals at the largest IT Conferences. 2022 was about change, readjustment and reconnection, that's why during the 12 months 10 events were organized in an online format and 11 in physical format. With the support of 2 Main Partners, MassMutual Romania and Systematic, and over 62 partner companies throughout the year, the DevCommunity can be proud of bringing in the spotlight over 210 tech speakers from all over the world and delivering over 250 technical content.
"2022 was a challenge to which we responded with enthusiasm and passion for everything that means organizing events for the IT community in Romania. We are happy to reach in physical format in 3 of the most important cities, Bucharest, Cluj and Iasi, and also because we launched 4 new projects due to the need and at the request of the participants: DevCast, Rooftop Dialogue, DevHacks Cluj and IT Study regarding the consumption of tech events. The transition from online to the in-person format was done gradually and the numbers spoke for themselves since in the second part of the year the participation percentage of those registered was over 90%." – Andreea Balaci, Delivery Manager at Catalyst Solutions.
Our staff worked tirelessly to launch in 2022 7 projects that shaped 19 events, 2 personalized events, one IT study and 5 large scale IT digital campaigns that were adapted to our partner's needs.
DevTalks is the largest expo-conference dedicated to software developers and IT professionals in Romania, and not only.  The concept revealed the theme of AI & Innovation. Humanity Reimagined and 15 scenes with a valuable technical agenda offered by over 150 speakers from all over the world. This year's hybrid edition enjoyed the trust of our Main Partner, MassMutual Romania, and brought over 6.200 participants, online and in-person at GlobalWorth Pipera. Here is a summary in numbers: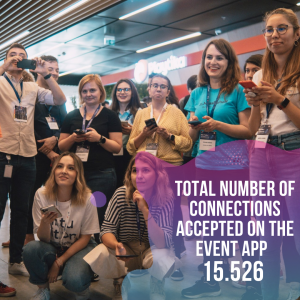 Our event platform had the objective to match mutual interests between attendees, partners and speaker and to facilitate valuable interactions. As a result we brought over 130 843 interactions.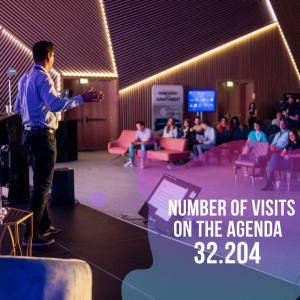 The most awaited moment in DevTalks is the Agenda. Over 150 + international speakers are prepared to deliver 24 hours of deep technical content that it remains available on the event platform for each attendee to check it and to access it anytime. Over 15 stages and 7 tech areas that make DevTalks a large-scale event.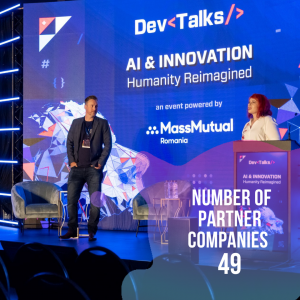 49 partners, 7 tech areas, 15 stages, over 150 live sessions. That's a lot of space to bring together subject experts, technical content, speakers, a large audience and build areas for our event partners to share their story with the community.
Autumn was a favorable period for new projects and the return of events in physical format. In September, a new and fresh concept was launched – DevCast which aims to make waves in the IT industry by addressing topics of interest to a target audience: leadership, entrepreneurship, success stories of businesses in the industry, but also of employees or professionals. CEO, CTO, CIO, directors, Sr. Engineers are invited to the discussion, but technology enthusiasts who have an inspirational story for the community are also welcome. 2022 ends for DevCast with 100 minutes of video content and 3 reliable partners invited to the discussions, MassMutual, CrowdStrike and Societe Generale Global Solutions Centre.
In the same month, the first Rooftop Dialogue organized with the support of SoftServe was launched and was an invitation to discussions for the IT community. Space specially created to encourage the exchange of experiences and information between participants brought together over 100 participants.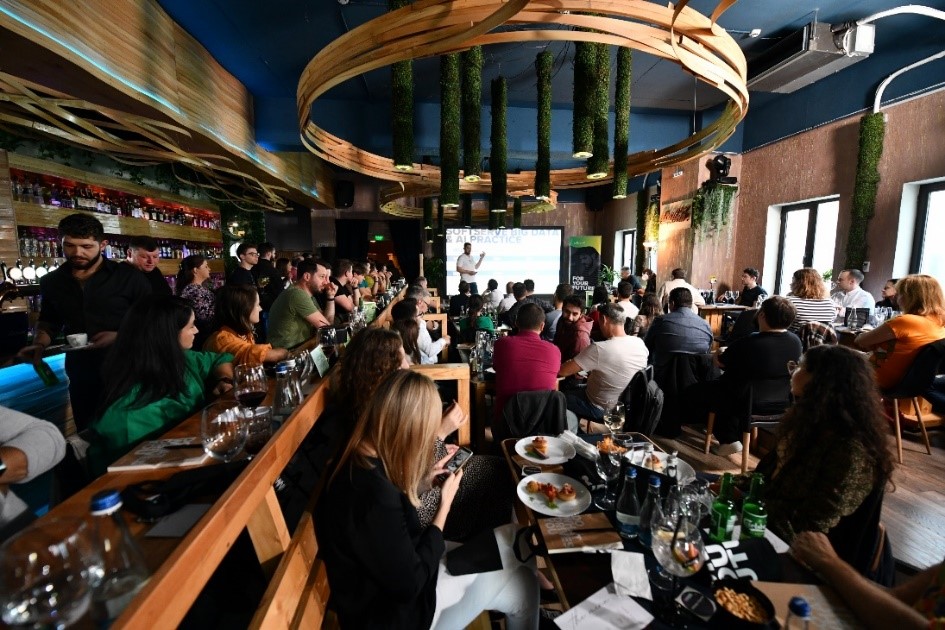 2022 brought to the IT portfolio 12 DevAfterWork events, practically 12 meetings with over 750 participants who met after work with friends, acquaintances or simply with people passionate about technology from the community they belong to. These meetings were bpoth online and in-person in Bucharest and Iasi, and were powered by CrowdStrike, Systematic, Raiffeisen Bank, Qualitest, Luxoft and Ubisoft.
"We want to offer to the IT community a complete and unique experience through each event, that's why we focus on the needs of the participants and develop impact projects. We like to think BIG and take any project to another level, we develop new concepts and add value to any idea that reaches our team. We could say about this autumn that it was an experience full of adrenaline, because we had weekly projects, sometimes with a distance of several days between them, and we enjoyed every moment of it. We know that 2023 will be even more ambitious and we will return to organize DevTalks Romania at Romexpo on 21-22 of June." – Andreea Balaci, Delivery Manager at Catalyst Solutions.
The return of the events in physical format was an opportunity to reconnect the Catalyst Solutions team with the entire IT community. Even so, for this autumn's edition of the DevCon project, the online component was kept precisely to offer a regional and accessible event, dedicated to the entire community in Romania, and not only. The fourth edition of DevCon was designed together with the Main Partner, Systematic, a partner that was a constant support in several IT projects of this year, but also together with 22 other partner companies and 27 media partners. This edition brought together over 4.000 participants, of which 2.000 enjoyed the in-person experience organized at the NORD Events Center in Pipera.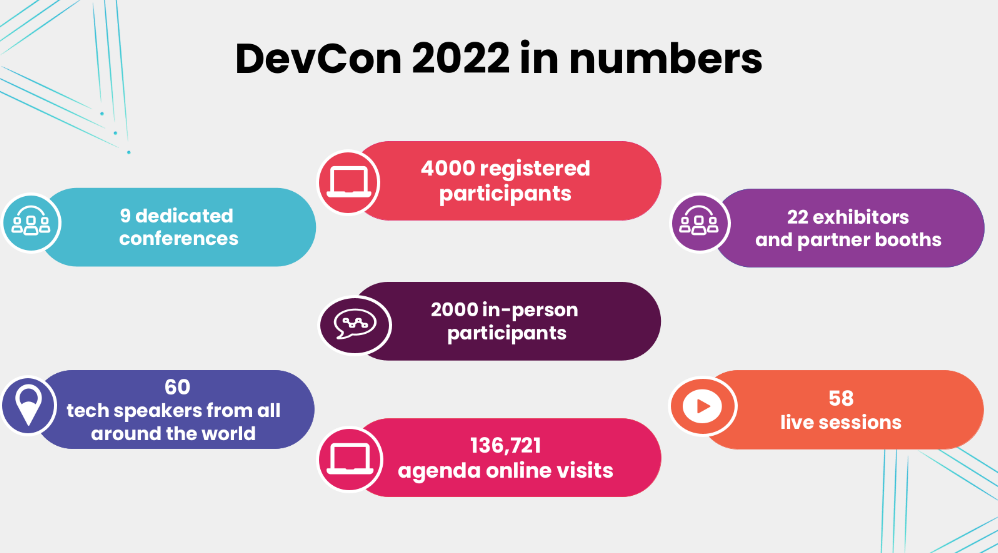 The end of this fall brought back DevHacks in physical format, a coding marathon for 24 hours. In Bucharest, under the theme of The Code Factory, 157 participants formed 48 teams and thought of solutions to the challenges offered by Systematic, N-Able, MassMutual, Harman and Metro Digital. Whether they chose Climate Change, Smart Cities, Health, IoT in Automotive or Digital Transformation, the participants had a unique experience, were guided by over 20 mentors and presented solutions, and 15 teams went home winning prizes in money in the total amount of 16.000 euros.
DevHacks was launched for the first time in Cluj and 32 participants answered MassMutual Romania's challenge to find a solution for the Smart Office hackathon. During 24 hours, 10 teams were mentored and guided so that half of them came away winners, the prizes having a total value of over 5.500 euros.
Organizing events is just one of the strengths of the Catalyst Solutions team. The concepts and campaigns specially created for the client's needs are part of the same portfolio and top IT companies find solutions through the uniqueness of the implemented projects. Each project has in background a complex campaign with national, even international coverage. For example, this autumn Catalyst Solutions attracted over 600 participants for the Tech Connect by LSEG Romania and Tech Connect – Students Open Day events.
The future sounds good when technology is involved and impact projects are organized for the IT communities in Romania, but also outside the country. For 2023, Catalyst Solutions aims to take IT projects to the next level and that is why it launched the IT Study on the consumption of tech events which aims to outline the market needs of employees in the field, wanting to investigate perceptions, needs, consumption habits and desires of the IT professionals. The answers of the respondents will provide a complex analysis of the consumer of tech events and will help the organizers to create projects that meet the needs of the participants. So far, the study has gathered over 1.600 respondents from all over the country.
Now we hand over to 2023, when Catalyst Solutions will organize DevTalks Bucharest on June 21-22 and also prepares an edition for the Cluj community next fall. The fifth edition of DevCon will be on November 1-2, but these will not be the only events that will impress the audience, because everything will be taken to another level through thoughtful surprises for the more than 40.000 technology enthusiasts, part of the community.