It's time to reunite the global HR & Employer Branding community! We are excited to give you EBcon 2022 – 3rd edition of the Regional Employer Branding Conference powered by talent attraction experts from Catalyst Solutions.  On the 17&18th of May, you can attend online Keynotes and Masterclasses coming from some of the best employer branding masterminds. Join us for a 2days of content focusing on Employer Branding Strategy and Employer Branding Activation. 
EBcon2022 Speakers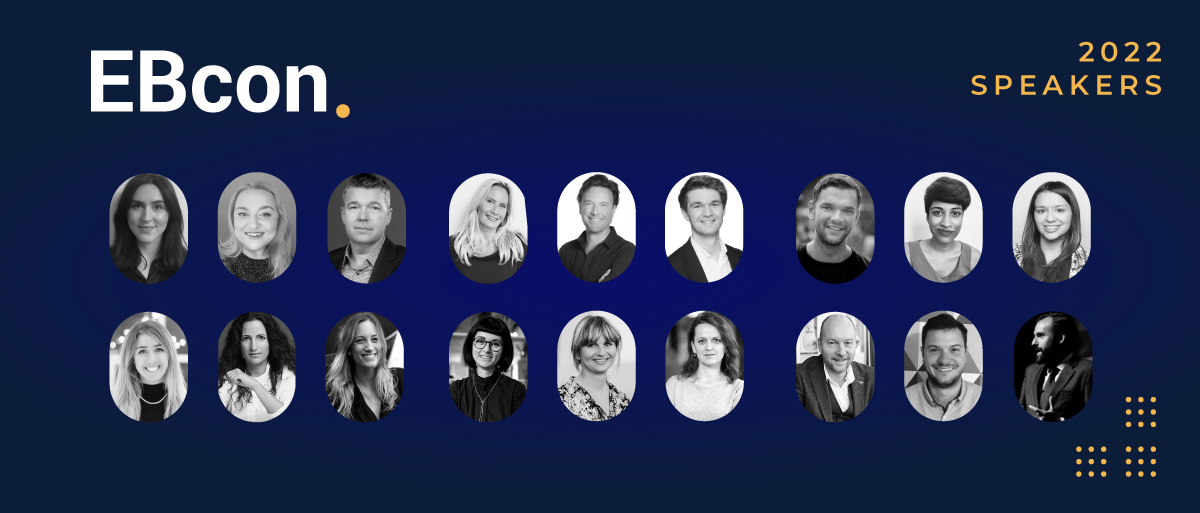 EBcon2022 Community
We are delighted to see our EBcon community growing stronger year by year! Now, you have a chance to become one of the 400+ local and international Employer Branding practitioners to attend EBcon2022. Join us to Learn, Share & Network – during the event and beyond! Throughout the year we plan to host a number of free webinars that will take the EBcon conversations even further. On top of that, when you attend EBcon you gain lifetime access to the EBcon Keynote Library, which grants you rights to stream any track that ever happened at EBcon. It will enable you to replay all the EBcon highlights any time you want!
EBcon2022 Most Desired Employers Gala
It's a tradition that EBcon marks one of the most important announcements for the local employers. During the event, we will host the gala and recognize the Most Desired Employers on the Romanian market, based on the current results from the Most Desired Employers Survey. The survey not only measures the employer brand attractiveness but also what factors are associated with the most desired employers and what is important to the relevant target group. Therefore, get ready to gain some fresh perspective coming straight from candidates!
EBcon2022 Partners
Fact is, we couldn't build such an amazing event without the help of our Partners. First of all, we would like to thank our all-time Main Partner Kaufland Romania for actively supporting our EBcon community! Also, our Track Partners: Bosch Romania, Continental Romania, Ubisoft Romania and SanoPass  for their involvement and bringing their great employer branding insights to EBcon 2022. We are happy to be powered by such great organizations that have employer branding high on their agenda.

What are some of the Top Reasons You should join EBcon2022?
Enter a vibrant community of 400+ professionals excited about HR and Employer Branding.

Attend Keynotes & Masterclasses featuring great content focusing on Employer Branding Strategy & Employer Branding Activation

Gain exclusive insights from attentively selected experts in the field!

Learn how to tackle current employer branding challenges and level up your Employer Branding game!

Hear Employer Branding success stories from some of the top companies that will fuel your creativity.

Be the first to find out Romania's 2022 Most Desired Employers and gain insights into the current talent market.
Join EBcon2022 ONLINE on the 17&18th of May, if you wish to reconnect with the community and unlock your true potential by learning about the present and future of Employer Branding!