September 15th, 2022
The pandemic context changes the candidates' priorities and expectations for a job. As an employer on the market, it's essential to know what is important for your employees and candidates. 
Since 2006, we analyze the perception and expectations of professionals, graduates, and students from the Romanian market. We do this amazing thing through the Most Desired Employers Survey and in the last few years, we have observed major changes in the employment market.   
How can data help you to be more efficient in your employer branding strategy? 
In the last EBdialogue, we discuss how much data makes our life easier. Most of the time, some companies get stuck at certain stages of the employer branding process.  
Whether we're talking about the need assessment, EVP development, or External Brand communication you can use a different type of data to make the right decisions.  
Data in NEED Assessment  
The employment market is constantly changing, and this can show us the Most Desired Employers Survey. To find out if you know the perspectives of your target audience, try to answer the following questions:  
What are their professional objectives?

 

What are the top criteria they consider when choosing an employer to work for? 

 

What determined them to apply for a job at your company?

 

What determined them to accept a career opportunity?

 
This stage is important because you understand if your business goals are in line with your employer brand.  For example, in 2022, candidates vote for the main professional objectives are: 

Data in EVP development 
EVP development can be a long process and a waste of time when you don't know what your candidates are and why they should connect with you. In this case, before you outline your EVP strategy, you would answer some questions:  
What can you offer the candidates? Is it suitable for what they want?

 

Why the candidates should apply for your jobs?

 

How would they feel in your company environment? 

 

Why should they know about you, an employer? 

 
Some people prefer flexibility, others efficiency. You may wonder what the candidates prefer: full remote work, hybrid work, or work-life balance? This information helps you position yourself in the market according to what your employees prefer.  
Here are some inputs to help you, but there are differences regarding the industry: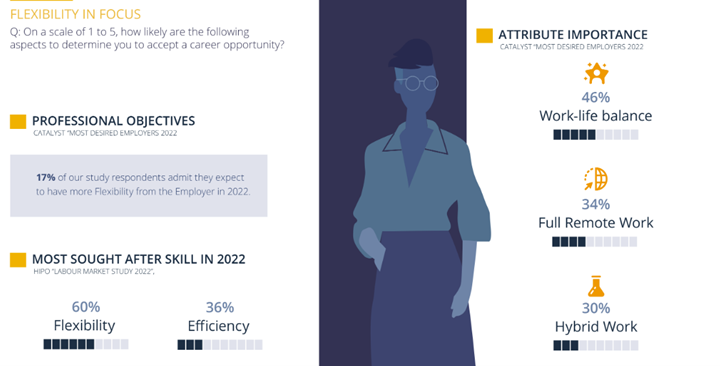 Data in External Brand Communication  
You have a lot of data about you and your audience, but what are you doing now? You need some more data. Ok, all that we have said so far is important, but before you communicate with your audience let's ask you 2 questions: Where and How to communicate with them? 
Find out data about the channels used by your audience;

 

Understand what are the types of content which can attract them;

 

Know when your audience is more present on each channel;

 
To get results you need to know your goals and go to the right channels. An example: Facebook is not a channel for conversion, but it can be a good channel to convey things about the company.  
Some input about the channels most used for a job search in 2022: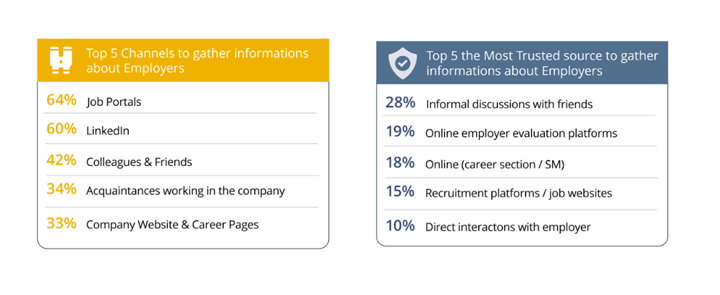 The more accurate the data is in your industry, the easier it will be to create an employer branding strategy that works. Moreover, use the funnel to see where you stand and what your goal is, so you can easily see what steps to follow.  
This was some input following the previous discussion of EBdialogue, but we want to deepen the area of ​​External Brand Communication with an emphasis on digital campaigns in the next edition.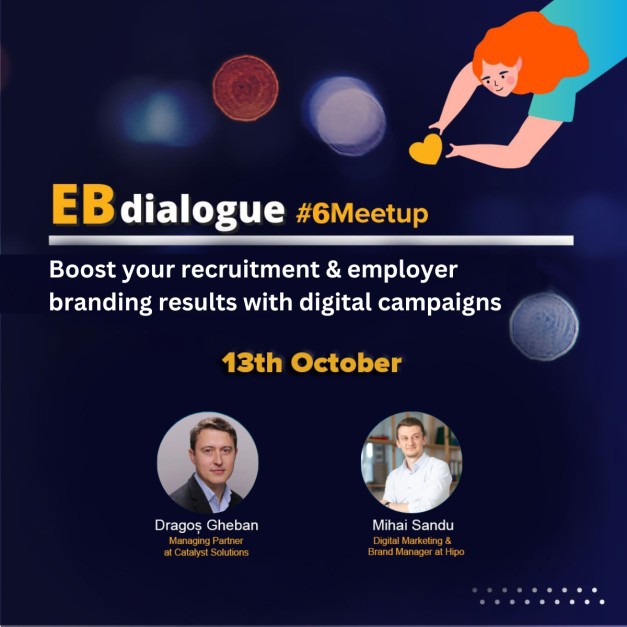 #6 EBdialogue: Boost your recruitment & employer branding results with digital campaigns  
In the next edition of EBDialogue we will discuss the latest changes in the digital marketing landscape starting with LinkedIn, Facebook, Instagram, and Google and continuing with Reddit, Twitter, and TikTok. 2021 and 2022 brought some major changes with new features and changes in the targeting options and many more.
Join us on October, 13th, at 5 PM at our next EB Dialogue in order to understand full potential of digital marketing and skyrocket your employer brand to the next level!
In this workshop we will answer the following questions:
How you can optimize the use of each of the major channel LinkedIn, Facebook, Instagram, Google, Reddit, Twitter and TikTok?

What's new? – Ex. Talent leads campaigns on LinkedIn and Discovery Campaigns on Google.

What is the audience you can reach with each of them? Ex. You can reach 3,500,000+ professionals on LinkedIn, but how many of them work in IT or speak German? This will also help you size up the budget of your campaigns.

How to optimize awareness, consideration, and recruitment campaigns – starting with the channels you choose and ending with the bidding method?

Using a multitude of channels makes frequent reporting close to impossible. We will explore how Google Data Studio can act as a dashboard for your digital campaigns. 

 
We are sure you have many more questions to suggest alongside the subjects above. Let's meet on Zoom on October 13th, at 5 PM to discuss all of them. Save your seat.