September 2021
Every day we search to promote better what we do, how we do it, or why we do it, but being an active company on the local market not only means that you have to always innovate and create better products or services for your customers, but you also need to create relationships with them. After all, good employer branding is all about giving back and investing in the community that you are part of.
In order to better navigate, we've put up a list of some of the largest IT conferences & events in Romania that will help you better connect with the IT community and boost your employer brand among the IT talents.
DevCon – a high-end virtual conference exclusively for IT professionals
November 2020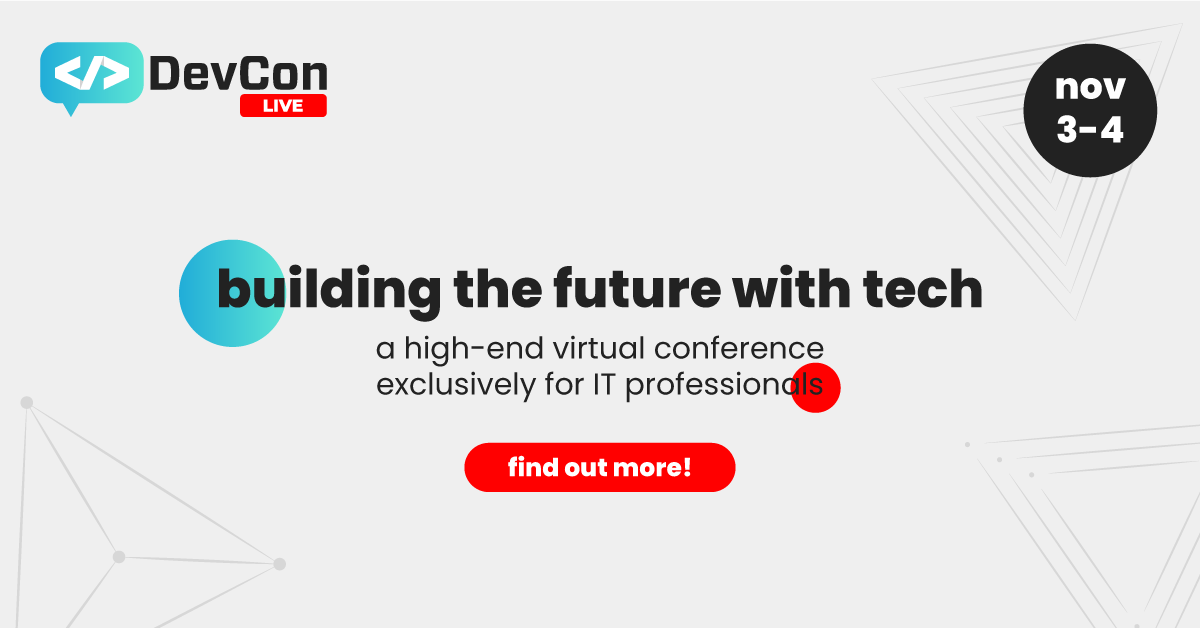 In 2021  DevCon Live, a high-end virtual conference exclusively for IT professionals is returning and is inviting you to join a community of experts, leaders and like-minded individuals to engage and empower your own learning experience.
On November 3-4, we have prepared 2 days full of valuable content, 9 dedicated tracks from which JAVA, .NET, DATA, AI & MACHINE LEARNING, WEB & MOBILE, WOMEN IN TECH and masterclasses, where senior IT professionals will connect in order to share their best inputs and experiences.
In this edition, we are building the future with tech and we want to bring again back to you the most desired technologies discussed throughout the year with more technical talks and networking where you can meet top‑notch local and international speakers from all around the world and important companies and key leaders from the IT industry.
With the aim to deliver a high-quality conference experience for the local IT&C community, DevCon will showcase important tools, key learnings & resources, or advanced tips & tricks about the most desired topics of the moment such as Artificial Intelligence, Machine Learning, Java, Data, .NET or Python.
Inspired by DevTalks Reimagined and part of DevTalks Romania's umbrella, DevCon Live represents the perfect mix of events, all brought together under a 2 days concept designed to deliver valuable content and connect the IT community. Everything will be spiced up with technical talks and networking where you can chat and exchange experiences with top-notch local and international speakers from all around the world, as well as important companies and key leaders from the IT industry.
This November, connect to the latest trends in technology and contribute to the future of the tech industry and get ready to be inspired and share your knowledge with 5000+ senior IT professionals, local & international speakers!
DevHacks – our series of autumn hackathons in Romania
 November 2021
DevHacks Hackathon started in 2015 with the purpose to find smart solutions for our everyday life problems. The idea was to produce results fast and with a high impact on different areas. And we did it! Over 1200 developers & IT Professionals were part of the DevHacks' experience until now, coding for Education, Health, Smart City, IoT, Fintech, Smart Banking, Security, and much more. On this journey, leading IT companies joined us and gave us their support such as LSEG Romania, Accenture Romania, IBM, PayU, Cognizant Softvision Romania, Raiffeisen Bank, Virtual Gaming Worlds Company, and Metro Systems Romania.
DevHacks is a 24h hackathon that focuses on the intersection of technology and society. Our mission is to bring together a diverse range of perspectives, from young IT professionals and passionates to seniors, from developers to designers and to ignite the flow of ideas between different participants
Since 2014, DevTalks Romania has become a driver of change for the tech world, connecting IT professionals and developers, businesses and startups from all around the world through its events.
In the 7th edition, DevHacks will move online spreading its wings during November month. Our mission is to have 4 hackathons activated that will bring together, over 140 IT professionals, over 35 teams and mentors that will be part of intense competition of coding and different challenges. You can now register and join in teams or individually to come up with original ideas and contribute to the everyday impact on our society!
★ Choose when you want to code and be the change you want to see in the world!
DevTalks Reimagined – the Biggest Tech Conference in Romania
June 2021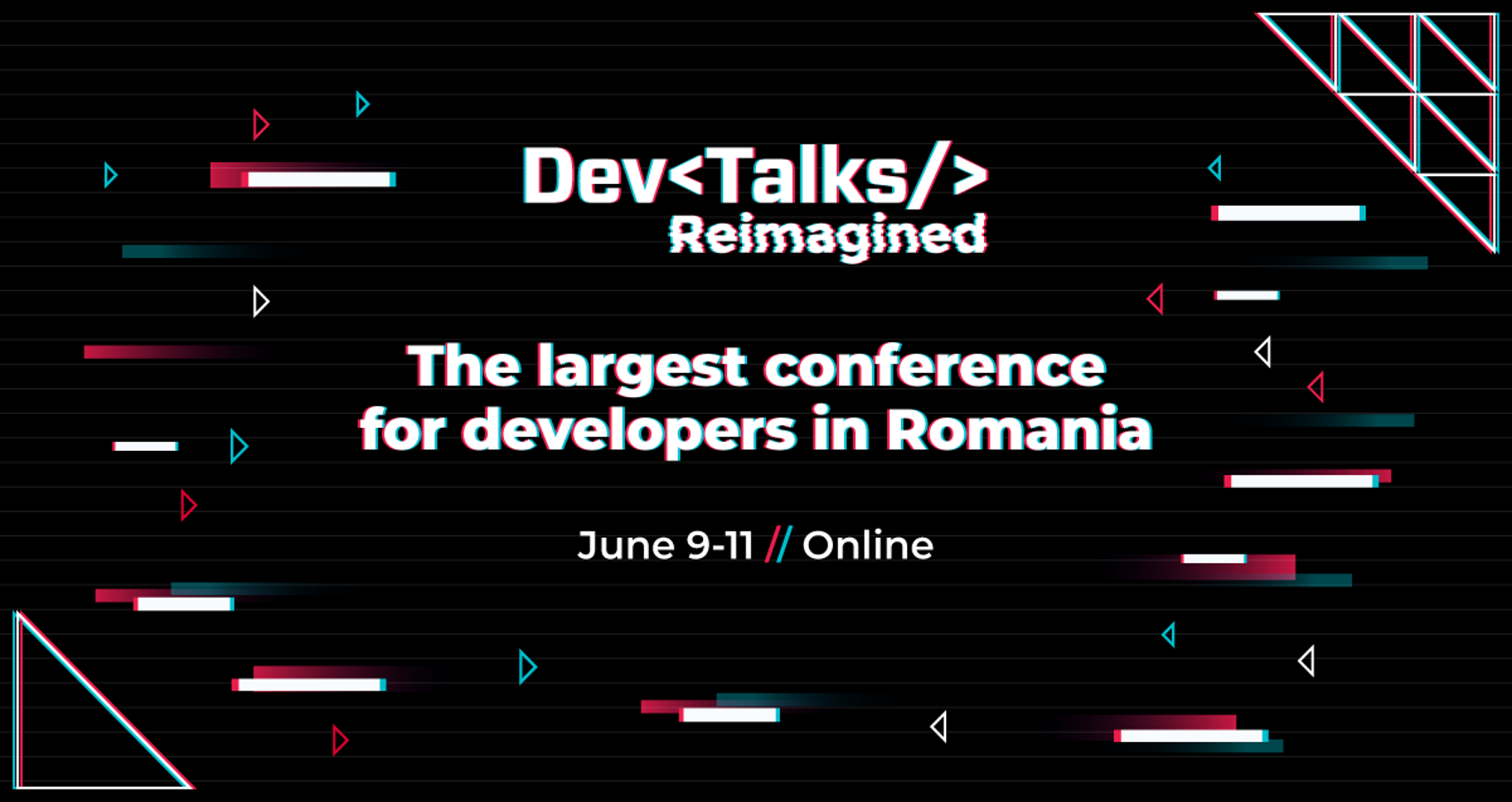 In 2021, DevTalks Reimagined brought together more than 8000 IT professionals attending the last edition, so it is safe to say it is the largest IT conference in Romania.
On 9-11th of June, DevTalks Reimagined gathered online 100+ international and local speakers on 15 curated conferences. For 3 days, the IT community met online, and people interacted, attended conferences, walked through virtual booths and communicated with partner companies.
In this 2021 edition, we talked about Emerging Technologies, Java, DevOps, QA & Testing, Web, Mobile, Big Data & Cloud, Connect (5G, Automotive, Telecom), Dev Lead, Product Management, Security, Women in Tech, Engineer of the Future and a special CodeClash Stage.
Having no less than 15 conferences, we are extremely proud to be represented by top IT companies in Romania and their incredible experts bringing to fruition the best technical content.
In 2021, we are stronger than ever with 44 Partner Companies ready to represent the IT community, talk to you and share knowledge about the latest tech trends, tips & tricks, and creative tech content.
★ This event is powered by our Main Partner, Cognizant Softvision.


DevAfterWork – your personalized events with the IT community from Romania
All year round

DevAfterWork is a series of informal networking events for the developers' community. The events are specially tailored for an "after work" context, so the participants can learn from and connect with both local and international speakers in a more relaxed environment.
DevAfterWork is a key event for the IT&C Community where participants have in-depth talks with local or international top specialists, get new insights and give voice to their personal ideas about the current topics from the IT field.
Tailored as an after-work context with a 3 hours Agenda, the DevAfterWork events encourage inter-personal connections and sharing ideas in a relaxed environment. The main purpose is to create a strong community that will inspire the future of the tech industry. With every event, we are gathering up to 100 IT professionals in the following areas: DevOps, Telecom, Java, Web, UX, Cloud, Mobile and much more.
★ Due to the current situation, DevAfterWork From Home was in place with cool virtual events:
If you want to be a part of the event, don't hesitate to drop us a line at angajatori@catalyst.ro