May 12th, 2023
Carried out for 18 consecutive years, The Most Desired Employers study is currently the most comprehensive tool that measures the level of attractiveness of employers at a national level. The question "What are the top 5 employers you would like to work for?" receives 14,446 free and unassisted responses. Study participants include both young career starters and professionals from Romania, from the fields of social sciences, business, engineering, and IT&C. Based on their responses, Catalyst Solutions highlights the TOP 100 Most Wanted Employers in the market: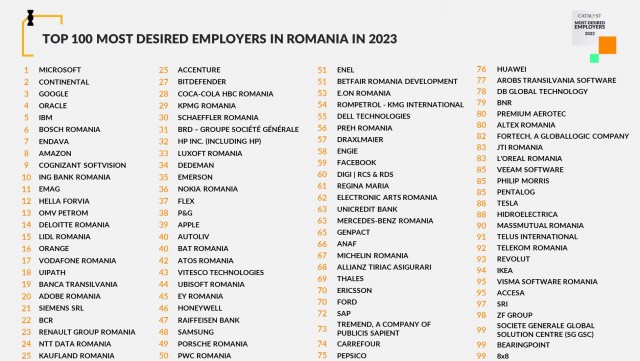 TOP 50 Most Desired IT&C Employers 2023

TOP 50 Most Desired Employers in Bucharest
TOP 50 Most Desired Employers in Cluj
TOP 50 Most Desired Employers in Timis
TOP 50 Most Desired Employers in Iasi
TOP 50 Most Desired Employers in Sibiu
TOP 50 Most Desired Employers in Brasov
TOP 50 Most Desired Employers in Constanta

"We are honored to be the Most Desired Employer in Romania! This recognition is a testament to the hard work and dedication of our employees, who are committed to making Microsoft a great place to work and driving innovation in the technology industry. We are proud to foster a culture of collaboration, diversity, and inclusion, where everyone's unique perspectives are valued and celebrated. Our employees are at the heart of everything we do, and we are committed to investing in their growth, development, and well-being. As we look to the future, we are excited about the many opportunities ahead to continue innovating and delivering world-class products and services to our customers. We are grateful for your trust and support, and we remain committed to serving as your trusted technology partner.
Thank you for choosing Microsoft as the Most Desired Employer in Romania!" said Adina Vidroiu, HR Director Romania, Moldova & Hungary at Microsoft. 

"Every year we manage to carry out projects that highlight the daily work of our colleagues. The well-done job that they carry out is the best example that illustrates the way our organizational culture works, as well as the values in which the company strongly believes: the winning mentality, trust, freedom to act, and solidarity. We thus manage, through teamwork, to demonstrate that people are the ones who set things in motion, who shape the future, and who continuously improve every aspect of the company's activity. I thank all those who set the future in motion every day, as this result is owed to them!" said Lucia Brădean Iliescu, Head of HR Continental Romania.
Along with announcing the most wanted employers in Romania for 2023, the study provides valuable information for entrepreneurs and HR specialists regarding the opinions and behavior of current candidates in the labor market.
For example, 71% of respondents choose their employer based on the salary package offered. For 50% of them, having access to attractive benefits is important. Well-being at work can be ensured through a secure job, a pleasant working atmosphere, and a balance between the employee's professional and personal life. These three arguments are among the top criteria for choosing an employer for 14,446 respondents.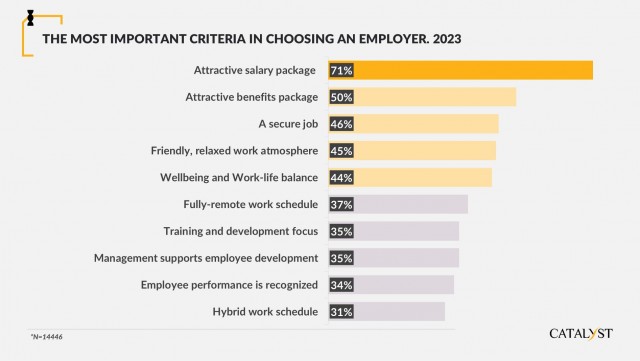 Another question addressed for the first time to respondents in the study refers to what flexibility at work means for candidates. Over half of them (54.9%) understand flexible scheduling as the possibility to organize their tasks within a chosen time interval while respecting the working hours stipulated in the employment contract.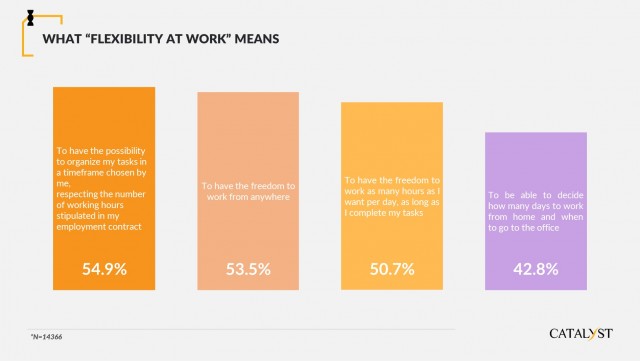 For the first time, Catalyst Solutions introduces a new question addressed to candidates: "What benefits are important to you?" Performance bonus ranks first in the responses, followed by meal tickets, the 13th salary, extra days off, and medical subscriptions.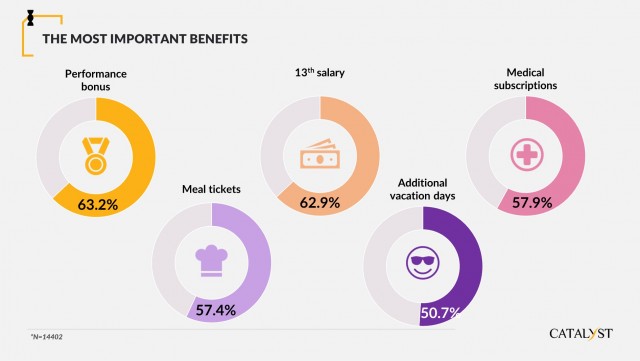 39% of candidates decided to leave their jobs because they were unsatisfied with the salary level and 26% felt the lack of career advancement opportunities. 20% of the candidates were disappointed by the work environment, while 18%, by the benefits package.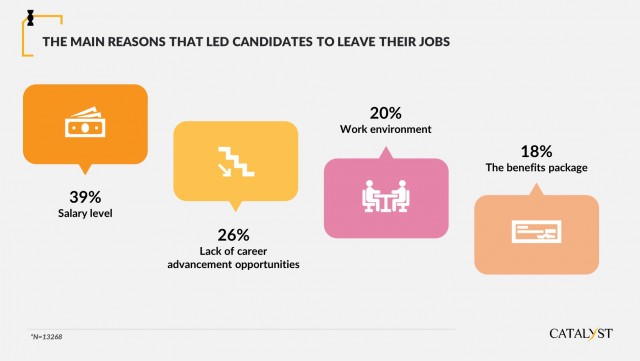 When it comes to keeping your candidates engaged and motivated in your company, most of them (34%) want a secure job and 24% an attractive salary. 21% of the candidates seem to focus on the work environment and they want a friendly atmosphere at the office, while 17% need a fully-remote work schedule.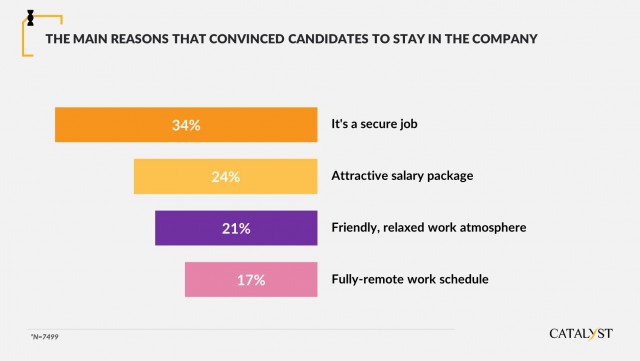 Have you ever wondered where the candidates scroll when they seek a job? On your website, under your company's career section? Only 27% of them browse on there. The majority (58%) use LinkedIn as the main channel regarding employers and jobs.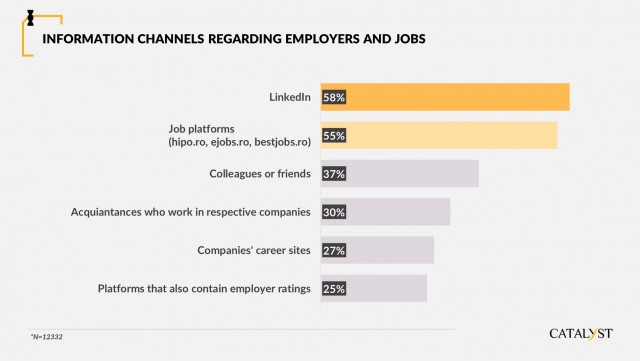 The collected data has been processed and organized according to the respondents' interests in certain industries, as well as their academic and professional history. These industries include Business, Engineering, IT&C, Retail, FMCG, and Outsourcing/BPO.
We gathered extensive data from over 14.000 respondents across Romania answering some of the burning questions related to their professional aspirations, factors in choosing an employer, remaining in the workplace for the long-term and many more! Download The Most Desired Employers – 2023 Insights eBook NOW to find out!

Those interested in more information can send an email to angajatori@catalyst.ro.