February 13th, 2020
You probably heard about our exceptional project that we organize each year – Top Talents Romania and now we are preparing for the 13th edition, this time online.
Top Talents it's about the most talented and remarkable young people from Romania with great academic results, exceptional employers of each industry and dynamic agendas.
Our purpose is to facilitate the interaction between participants and companies interested in developing their professional and personal skills or recruiting them.
Now, let's dig in together and find out how was the experience at Top Talents in the past few years!
Our Speakers are CEOs, managers from TOP companies or international speakers. Some examples are:
Guy Reynolds, GM Colgate-Palmolive – speaker @ 2010 edition;
Babak Fouladi, Chief Technical Officer Vodafone Romania – speaker @ 2011 edition;
Adela Jansen, HR Director BRD Groupe Societe Generale – speaker @ 2010 – 2014 editions;
Robin van Rozen – General Manager in South East Europe Philips – speaker @ 2014 edition;
Gilles Antoine – Country General Manager L`Oreal Romania – speaker @ 2015 edition;
Carissa Bub, Executive Coach – International speaker @ 2015 edition;
James Simmons – CEO, Unilever – speaker @ 2018 edition;
Dirk Bansch, Emotional Intelligence Expert and Speaker, international speaker @ 2018 edition;
Magdalena Klosinska – Human Resources Director JTI Romania, Bulgaria & Moldova, speaker @ 2017 edition;
Bellow, you can discover some important details about the background of the participants from the previous edition.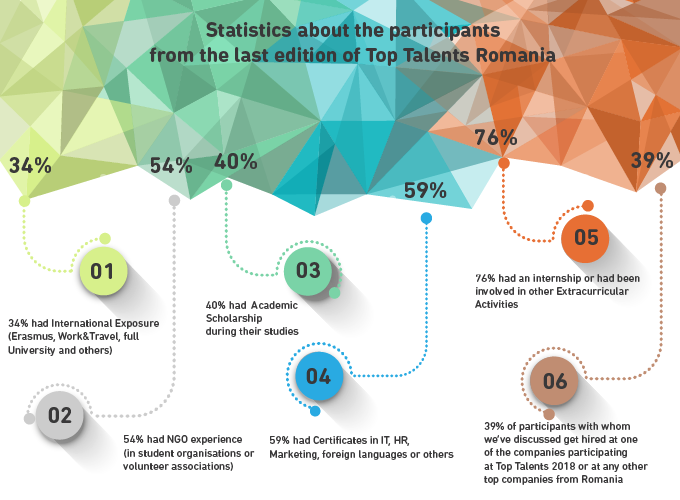 Take a look at how participants from the previous editions described their experience at Top Talents.
"Indeed, Top Talents is a top event. In two days, you have the opportunity to meet and interact with different international companies (Google, Philips, Heineken etc). This event is one of the few events which point out the needs of students, their desires and this you can see from the first day of sessions and workshops. The organization is excellent, everything is prepared in the smallest details (location, timing, food etc.) I strongly recommend and waiting for Top Talents 2017." Participant @ Top Talents 2016.

"For me, this event means a valuable opportunity to meet employers in other circumstances than the usual context (at interview, reading about them from different resources etc). These interactions inspired me and boost my desire to learn and develop myself continuously." Participant @ 2018 edition

"We are very glad that we participated for the first time at this event and I can say that we were pleasantly impressed by the quality of the invited talents and the way it was organized. We had the pleasure to discuss both in individual sessions and at the networking corner with talented students who were interested in the opportunities that Microsoft can offer both in the IT area and in other departments. We thank Catalyst for the invitation made and we will definitely participate in future editions." Microsoft Romania Team

"When passion meets creativity, wonderful projects are born. This is also the case of Top Talents 2018, the first edition we had the pleasure to participate. We were pleasantly surprised by the students' interest and their involvement during the organized workshops, the quality of the conferences and the diversity of the participants' profile." Emanuela Dobre, Employer Branding & Digital HR Strategist Groupe Renault Romania

"Top Talents was a very beautiful and interesting experience. It gave us the opportunity to talk with many talented young people, answer questions and see their perspective on developing a career that will satisfy them. We are glad we were part of the Top Talents story this year. We had a great time and we were glad to meet many students, ambitious, motivated very eager to talk to us and curious to know as much about Ursus. We hope to see you again in the next edition!" Ursus Breweries Team
So, if you are looking for 2 days full of good energy, interaction with valuable candidates and networking with your peers, you must join Top Talents Romania, on 18th – 19th of November 2020 for the online edition!
Let's make an excellent experience together for your company! Contact us at angajatori@catalyst.ro.