August 16th, 2017
You probably heard about our exceptional project that we organize each year – Top Talents Romania and now we are preparing for the 10th edition.
Top Talents it's about the most talented and remarkable young people from Romania with great academic results, exceptional employers of each industry and dynamic agendas.
Our purpose is to facilitate the interaction between participants and companies interested in developing their professional and personal skills or recruiting them.
Now, let's dig in together and find out how was the experience at Top Talents in the past few years!
Our Speakers are CEOs, managers from TOP companies or international speakers. Some examples are:
Guy Reynolds, GM Colgate-Palmolive – speaker @ 2010 edition;
Babak Fouladi, Chief Technical Officer Vodafone Romania – speaker @ 2011 edition;
Adela Jansen, HR Director BRD Groupe Societe Generale – speaker @ 2010 – 2014 editions;
Robin van Rozen – General Manager in South East Europe Philips – speaker @ 2014 edition;
Gilles Antoine – Country General Manager L`Oreal Romania – speaker @ 2015 edition;
Carissa Bub, Executive Coach – International speaker @ 2015 edition;
Jordi Aixandri – USCE Finance Director, Unilever – speaker @ 2016 edition;
Bellow, you can discover some important details about the background of the participants from the previous edition.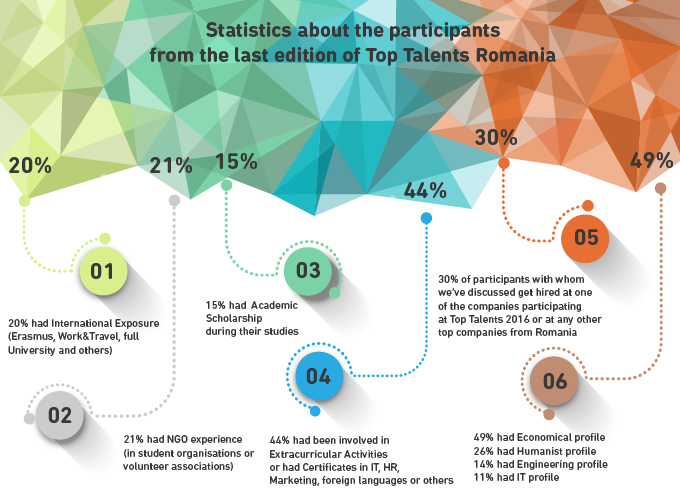 Take a look at how participants from the previous editions described their experience at Top Talents.
"Being able to meet top employers and learn from their human resources specialists; also, being able to meet so many talented people alongside whom we can build a nice future for Romania, regardless of the companies we work for." Participant @ Top Talents 2010
"Maybe there is no universally valid recipe for success but there are a few steps that can help you get there and Top Talents it's definitely one of them.
Networking, Career Cafe, Leadership, Workshop – are the crossing points of Top Talents but I'm not going to talk about them. I'm going to tell you why Top Talents?
Because you will find successful people with amazing stories, passionate young persons with great aspirations and most importantly, multinational companies ready to offer you great opportunities.
From my Top Talents experience I became aware of my areas for improvement and felt that I had started to address them. At the end of this two days I became a person with a mission, a vision, having core values, a few visiting cards, new friends and new career opportunities." Participant @ Top Talents 2011
"Being successful requires knowing what others do or have done to get where they are today. This is what Top Talents is about. An eye-opening experience which definitely will rise to anyone's expectations and even exceed them." Participant @ Top Talents 2013.
"Indeed, Top Talents is a top event. In two days, you have the opportunity to meet and interact with different international companies (Google, Philips, Heineken etc). This event is one of the few events which point out the needs of students, their desires and this you can see from the first day of sessions and workshops. The organization is excellent, everything is prepared in the smallest details (location, timing, food etc.) I strongly recommend and waiting for Top Talents 2017." Participant @ Top Talents 2016.
So, if you are looking for 2 days full with energy, interaction with valuable candidates, great networking space and so on, you must join Top Talents Romania, on 24-25 of November 2017!
Let's make an excellent experience together for your company! Contact us at angajatori@catalyst.ro.