The Client
American group Visteon, which specializes in producing vehicle cockpit electronics products and connected car solutions. The company works for car producers such as BMW, Mercedes, Porsche and Jaguar Land Rover. It also has technical centres in Bulgaria, Germany, France and UK. Worldwide, it has 10,000 employees in over 40 centres in 18 countries.
The Challenge
After opening a new Technology Center in Timisoara last year, the team was looking forward to welcoming new colleagues as recruitment efforts intensified.
The target profile we had to reach were quality individuals specialized in software engineering as well as students interested in the automotive field. In terms of communication, we wanted to focus more on the technologies Visteon developed and the major role played by the new Timisoara Technology Center in this landscape.
The Solution
Opening of the new Center in Timisoara was a great opportunity to celebrate and bond with the candidates. Visteon Open House represented the perfect context where preselected candidates could interact with the company's representatives and learn more about the technology used by Visteon.
We divided the campaign into three key areas that together delivered optimal results:
Using Hipo.ro career portal to target active candidates

, with help of dedicated landing page, web banners, personalized newsletters targeting a specific audience, personalized Job Ads and direct approach of candidates from the portal's database.
In terms of results, this mix generated over 200.000 impressions and more than 11.000 candidates where reached.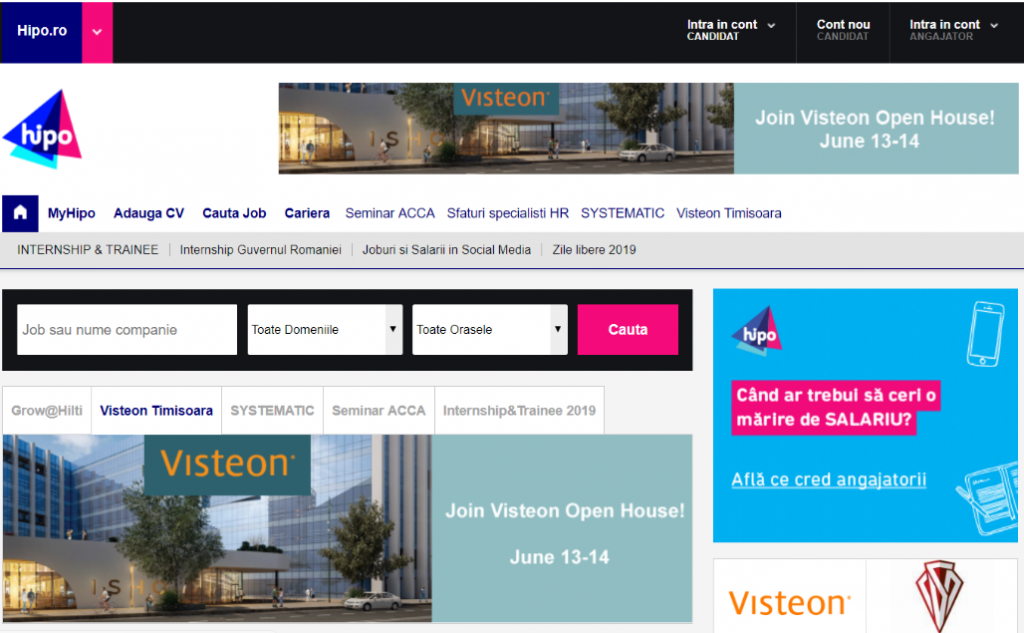 Social Media Campaign.  Through our Most Desired Employers Survey we gather each year information about candidates' behaviour, including the channels they use in order to gather information about employers. This market data was used in order to integrate within the campaign multiple platforms used by Visteon's target group, such as LinkedIn, Facebook, Reddit or Twitter.
All together the social media campaign generated over 2,300,000 impressions.
PR and Content Campaign. 

The event represented a great opportunity for senior European engineering leaders to discuss with the media about the products to be developed in Timisoara. Based on this, we created and distributed several articles which were distributed both towards key business publications and towards targeted candidates.
The Effect
Opening the doors to its latest software development facility, Visteon welcomed more than 180 guests at its "Open House" event.
Visteon's European engineering leaders hosted the event and showcased the advanced technologies the new centre will support. It was a great learning opportunity for candidates and important brand exposure for Visteon.