The Client
Visteon is a global technology company, headquartered in the U.S., that designs, engineers and manufactures innovative cockpit electronics and connected car solutions for the world's major vehicle manufacturers. As a leader in this space, Visteon improves safety and the user experience through its digital instrument clusters, information displays, infotainment and domain controller solutions. Visteon has approximately 10,000 employees at more than 40 facilities in 18 countries.
The Challenge
After opening a new Technology Center in Timisoara last year, the company wanted to increase its brand awareness on the Romanian market and be able to showcase the cutting edge technology and innovations they work on.
The audience we were about to target involved quality individuals specialized in software engineering as well as students interested in the automotive field. In terms of communication, we wanted to focus more on the technologies Visteon developed and the major role played by the new Timisoara Technology Center in this landscape.
The Solution
Opening of the new Center in Timisoara was a great opportunity to celebrate and bond with the IT community in Romania. Visteon Open House represented the perfect context where participants could interact with the company's representatives and learn more about the technology used by Visteon.
We divided the campaign into three key areas that together delivered optimal results:
Using Hipo.ro career portal to gain exposure, with help of dedicated landing page, web banners, personalized newsletters dedicated to a specific audience and personalized Job Ads.
In terms of results, this mix generated over 200.000 impressions and more than 11.000 people where reached.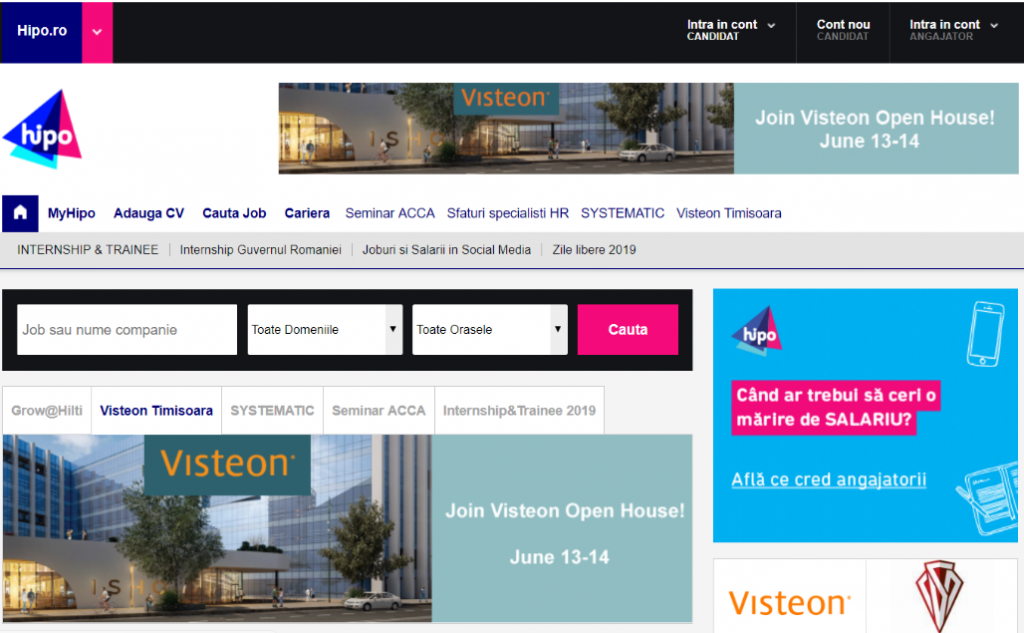 Social Media Campaign. Through our Most Desired Employers Survey, we gather each year information about the current market's behaviour, including the channels used by students and IT professionals in order to gather information about employers. This market data was used in order to integrate within the campaign multiple platforms used by Visteon's target group, such as LinkedIn, Facebook, Reddit or Twitter.
All together the social media campaign generated over 2,300,000 impressions.
PR and Content Campaign. 

The event represented a great opportunity for senior European engineering leaders to discuss with the media about the products to be developed in Timisoara. Based on this, we created and distributed several articles which were distributed both towards key business publications and towards the right audience.
The Effect
Opening the doors to its latest software development facility, Visteon welcomed more than 180 guests at its "Open House" event.
Visteon's European engineering leaders hosted the event and showcased the advanced technologies the new centre will support. It was a great learning opportunity for IT enthusiasts and important brand exposure for Visteon.
Few words from Visteon Team about the project
With the ambition of increasing its influence, capacity and technology footprint in Europe, Visteon opened the doors to its latest software development facility in Timisoara, Romania, at the beginning of 2019. Familiar with the business potential and wealth of talent looking to contribute in this space, the company was eager to demonstrate Visteon's capabilities, scope and determination to influence the future of automotive within a competitive environment.
Visteon's two-day open house, supported by Catalyst, was an excellent way of communicating the company's mission and objectives to interested parties with the skills and desire to make a difference in automotive in Timisoara. With Catalyst's expert help, the open house attracted a diverse audience of engineers, software developers, academics and students – as well as local media outlets, intrigued by the new state-of-the-art facility.
Catalyst's approach to the event was professional and comprehensive. With significant planning time apportioned, Visteon's event was well advertised before, catered to during and followed up succinctly afterwards. Providing a capable, well-prepared support team, Visteon's needs, requirements and expectations were fully supported and met – while the team themselves were confident enough to offer their own thoughts and suggestions where they believed improvements or enhancements could be made.
This thorough approach contributed markedly to a hugely successful open house event which attracted more than 180 attendees who were able to actively engage with Visteon's expert presentation team on a range of specialist topics and interact with the cutting-edge auto technology on display. Catalyst helped to make the atmosphere one that combined proficiency with a relaxed and enjoyable tone – ensuring everyone involved was able to get the most out of the experience.