February 21th, 2019
Today, well maintained employer branding is a must for companies that want to attract quality talents of tomorrow. We decided to open a conversation about behind the scenes practices of companies that want to share with us their strategy and thoughts on employer branding.
Find out what Adina Tecarau – Employer Branding Manager from Veeam Romania told us about their unique approach and advice she has for other employers.
Meet Veeam Software
Veeam Software is the leader in Backup solutions that enable Intelligent Data Management. With more than 330,000 customers worldwide, including 82 percent of the Fortune 500, Veeam Romania was founded in 2015 and, in less than three years, it became the biggest hub in Europe, with more than 400 employees.
Catalyst Solutions: What is the current state of Veeam employer branding?
Adina Tecarau: The challenge to attract, develop and retain talent nowadays is very real. When Veeam entered very competitive tech market in Romania, it had to overcome extra efforts to gain visibility and preference to attract the best candidates. From day 1, Veeam invested in its Employer Branding efforts, both internally and externally.
Internally, our Employer Branding efforts focus on building a great place to work – we call it a #Veeamazing place to work. In terms of external Employer Branding, our strategy is based on a mix of channels that help to gain better visibility for Veeam, enhance the touchpoints with potential candidates and facilitate direct contact with them.
Catalys Solutions: What successful employer branding campaigns did you run in Romania by now?
Adina Tecarau: During the first two years on the Romanian market, our Employer Branding campaign concept was "Act NOW!" (Taglines: "Good things come to those who act. Act NOW!" and "It's time to show your career who's boss. Act NOW!"). This spoke to the exact profile of candidates we were looking for, and it was aligned with our values. We wanted to attract doers, people who do not hesitate, with the energy and drive to move mountains. This concept was so appreciated that campaign went global when our operations in Saint Petersburg and Prague started using it.
In 2018, we launched our new creative concept: "Greatness Every Day". This time, we're speaking about our results and our aspirations. The new campaign focused a lot on the visual dimension and on creating the space for transparency and "realness": real people telling their real career stories were promoted on various channels.
We feel that this will be the winning bet as our employees are our best ambassadors. Candidates, now more than ever, are very keen on culture of transparency – so we will continue to focus on this in our future endeavors.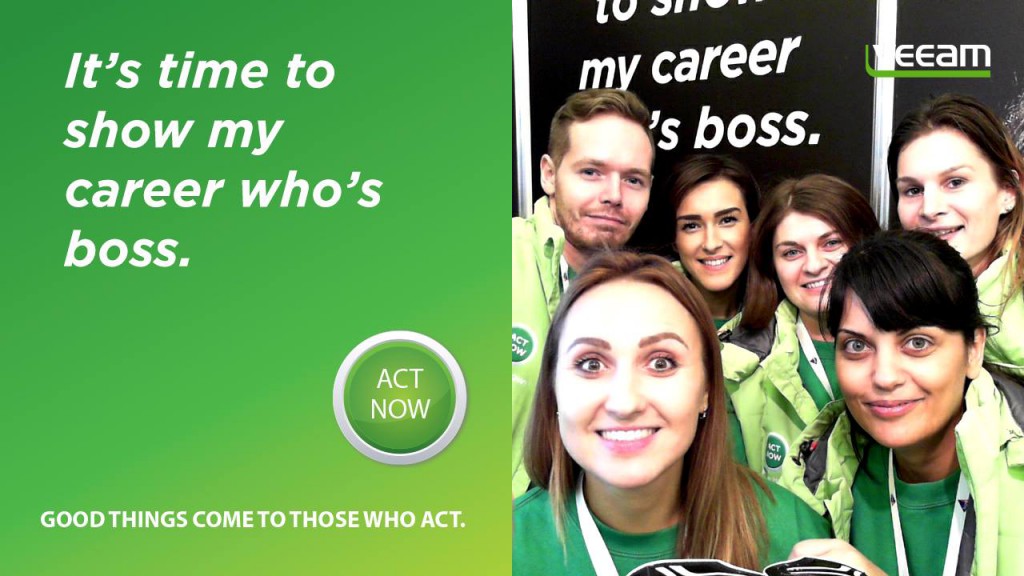 Catalyst Solutions: What is your main focus and tools that bring the best results in your employer branding campaigns?
Adina Tecarau: We are using a mix of channels and tactics, to cover as much ground as possible. We have a strong online presence, with several owned channels:
From video interviews, to testimonials, virtual tour around the office and even a VR movie with our colleagues – they all help us add depth and dimension to our employer presence. Besides it, we add PR efforts and run digital advertising campaigns.
Offline, we take part in career fairs, workshops and skill shops, bootcamps and various university events to establish personal connections with candidates.
Catalyst Solutions: How attending Angajatori de TOP – the no.1 professional career fair in Romania empowered your employer branding strategy?
Adina Tecarau: We opened our office in Bucharest in November 2015 and in the spring of 2016, we were already attending our first Angajatori de Top career fair. Attending this event increased our awareness – and this was our first objective. But it also helped us to identify active ambassadors inside our teams – people who volunteer to speak to the visitors with so much pride. People who want to deliver workshops and share their knowledge. It has helped in creating a big database of people interested in Veeam, who are now kept up to date about our initiatives.
It gave us the opportunity to meet so many passionate individuals who wanted to start their career or change their job. Talking with them helps us better understand the market and its trends. Some of these people have become our colleagues because they met us there.
Now, as we are opening our Inside Sales team to junior roles. We want to attract speakers of various foreign languages, who do not need to have prior sales experience. We expect that our interactions at the career fair will yield a higher recruitment success.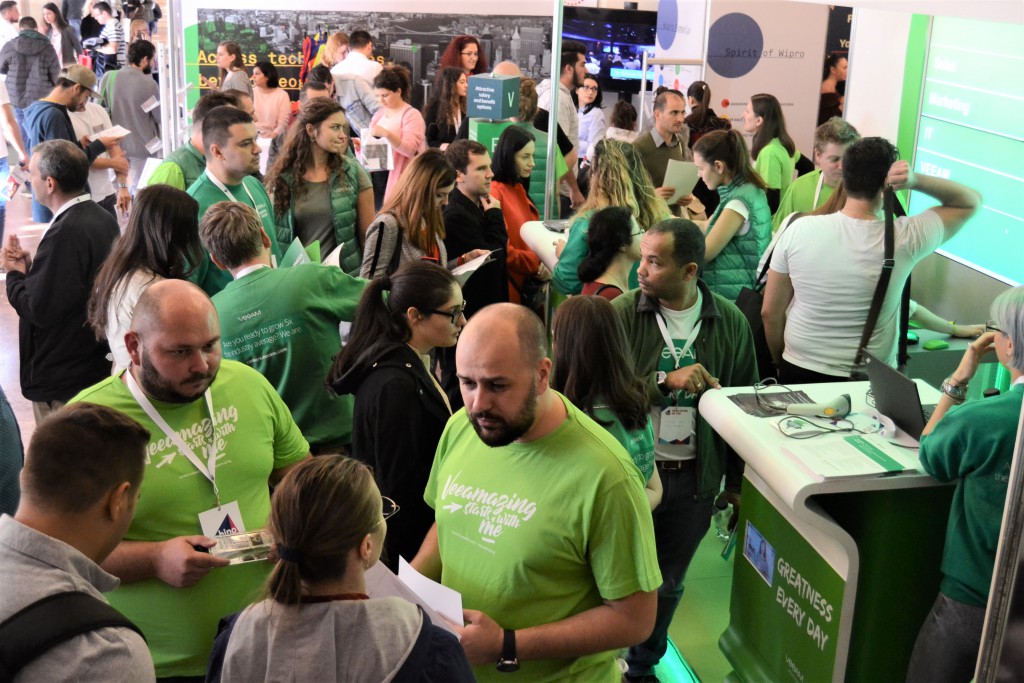 Catalyst Solutions: How did you prepare for Angajatori de TOP 2018? (materials, booth, special features etc.)
Adina Tecarau: From the start, we paid attention to how we wanted to represent our company at Angajatori de Top. For each edition, we invest in an original company booth, aligned with our brand identity and implement surprising interactions for our visitors – we invited them to punch, to take photos, to answer quizzes and win their prizes from custom vending machines, to take VR tours of our office, to take part in raffles and even to enjoy a specially designed area – Veeam Availability Lounge, where they could experience some of the perks our employees have (like get massages or try origami workshops).
We're using our employees' images and stories on everything from the booth wall visuals to the flyers and videos we show; we have big teams of volunteers who invest their time in being present at the booth, to interact with our visitors – I think each year we have the biggest team of volunteers at the fair.
It's two very intense days, that take a lot of preparations, but we are always proud of the results.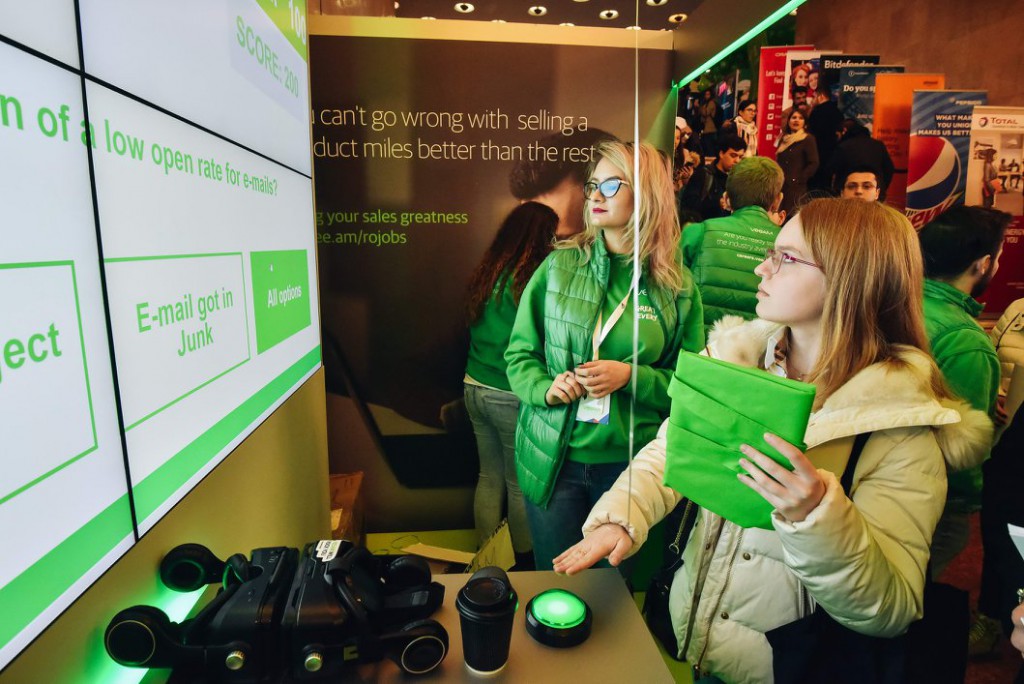 Catalyst Solutions: What advices would you give to other companies that want to optimize their career fair performance?
Adina Tecarau: I would advise them to make it relevant. To think first about what their objectives are, their needs and their resources. They should aspire to find the right balance between investment and results. And most of all to enjoy the interaction, it's a unique opportunity to get so close to their potential colleagues.
Catalyst Solutions: How attending Sales Boot Camp – the event dedicated to top students and fresh graduates interested in developing a career in Sales empowered your employer branding strategy?
Adina Tecarau: Attending the Sales Bootcamp facilitated a more targeted communication, and allowed us to contribute in educating this segment of students / graduates with more practical information, in order to complement the theoretical knowledge, they have from school. For the second part of the bootcamp, where we invited participants into our office, the direct interaction was extremely useful in helping us better calibrate our expectations. Sometimes we forget what it was like for us, when we were students, what we needed to know, how we needed to be guided. It's good to get up close and personal – we all left the meeting knowing more.
In 2018, we did an experiment: we decided not to limit ourselves to a sales topic, and instead to talk about a bigger part of the sales lifecycle, focusing on how marketing and sales work together in our company.
We were very pleased to see that our idea was welcome and that now, in 2019, the Sales Bootcamp will turn into a Sales & Marketing Bootcamp. We pioneered that and we're proud of it.
Catalyst Solutions: Any other thoughts? 😊
Adina Tecarau: 2019 will see an increased presence for Veeam as an employer, both in the digital and offline world. For the first time in our history in Romania, we are starting to look for junior profiles for our Inside Sales team – people who speak various foreign languages and who want to start their career in sales. Experience is not mandatory, as we are willing to train them. To attract the right candidates, we have prepared our biggest Employer Branding campaign ever – and we are starting with a Veeam Career Talk organized in partnership with Hipo, on March 7 (you can apply here).
And, to align with the market conditions we see in Romania, this summer we are also launching an accelerated development program dedicated to recent graduates looking to jumpstart their career in sales – with access to both theoretical and practical training.
Conclusions
We can see that Veeam employer branding strategy is based on core values of the company which gives a sense of synergy and provide harmonious candidate journey. Their campaigns speak their unique language and therefore attract the right type of candidates. Veeam knows that who wins talent today is the one who is able to establish a personal connection. That's why they don't miss any chance to get close to their candidates by taking part in various events. But besides that, they know how to make the most of it by providing fun and meaningful experience. We are happy to be a part of their employer branding success story and we wish good luck on their future endeavors.
If your company would like to share their employer branding story we are here to talk, listen and spread the word. Contact us at angajatori@catalyst.ro